History of Tagoto
Establishment – along with the beginning of Meiji period-
Honke Tagoto was founded in Sanjo, Kyoto by Tokube I in 1868. Our flagship restaurant is located at T intersection of Shinkyogoku St. and Sanjo St. since our establishment. Shinkyogoku St., which is one of the entertainment districts in Kyoto, used to be an area which held many temples. It was made in 1872 to cheer up Kyoto citizen who was disappointed at the capital relocation from Kyoto to Tokyo by Meiji emperor. This street is still popular among a lot of tourists and shoppers. Sanjo St. prospered as the west starting point of Tokaido Road and blossomed as a financial town from Meiji period (1868-1912) to Taisho period (1912-1926). The remaining modern architectures of brick and stone must be the heritage of this period.
Our flagship restaurant has been located at the crossroads of entertainment district and financial town, which couldn't be better. Our first restaurant has been so popular that people called us "Kuruma (car) Udon" because our storefront was crowded with horse-drawn wagons and rickshaws.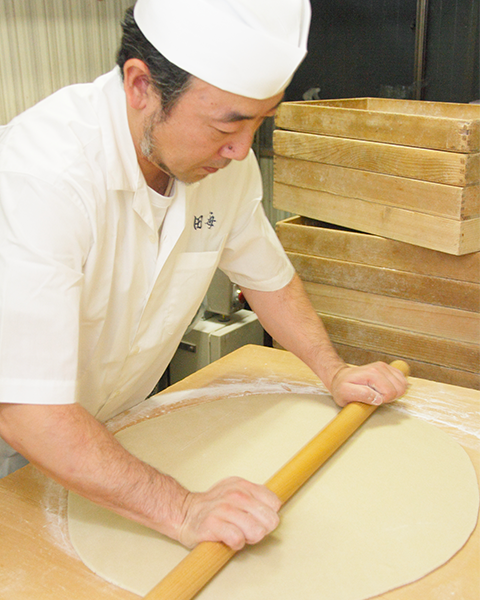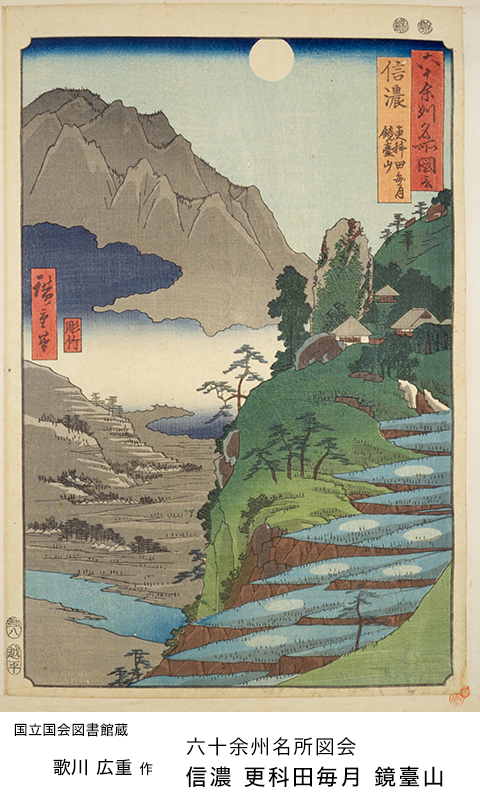 The origin of our name "Tagoto" is related to the scenery called "Tagoto-no-tsuki (moon of Tagoto)" in Sarashina, Shinsyu (Nagano Prefecture). "Tagoto-no-tsuki" is a scenery that the moon shines and one of terraced rice fields in the mountains reflects it. Many haiku poets such as Matsuo Basho and Kobayashi Issa wrote haiku out of it. Ando Hiroshige, Ukiyoe artist in Edo period, printed "Sarashina Tagoto-no-tsuki" for Meisho-zue (illustrated guide of famous places). Tokube I was also impressed very much at the beauty of "Tagoto-no-tsuki". Shinsyu has been famous for Soba for a long time. He named his restaurant "Tagoto" using the moon of Tagoto as a metaphor to describe the taste of Soba.
As a Soba specialist
We, Honke Tagoto, offer various Soba cuisine as a Soba specialist. Actually we used to be a diner to offer not only Soba but other kinds of noodles and dishes until the 5th owner took over. A lot of guests loved us at that time too thanks to the historical backdrop.
The 5th owner went to Tokyo when he decided to take over the restaurant. He thought "As for Soba, Tokyo is the place" and started working at a Soba restaurant in Tokyo to learn. There he tasted Soba which he had never had, which was very shocking for him. He thought "I want to offer this Soba that surprised me in Kyoto". As soon as he got back to Kyoto, he worked on the revolution of Tagoto.
First, he specialized in one cuisine cutting off a lot of menu and selecting ingredients carefully. He devoted more effort to each single menu. Tagoto restarted as a Soba specialist in the 1960s. Restaurant itself was also renovated. The big garden at the back of restaurant was landscaped on a smaller scale so that we could have more tables to view the garden. Following the 5th, the 6th owner also went to Tokyo to learn the handmade Soba. The rich and new taste of Soba fusing Soba (noodle) in Kanto area to Dashi (broth) in Kansai area. That is "the taste of Tagoto". Tagoto's Soba is developing every day.